Camil Sayegh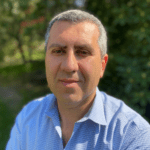 Company: UCB Ra Pharma
Job title: Head of Complement Biology and Macrocycle Peptide Platform
Bio:
Camil Sayegh is currently head of complement biology and macrocycle peptide platform at UCB Ra Pharma. In his current role, he oversees both complement and non-complement discovery therapeutic programs and translational discovery in support of the clinical development of zilucoplan.  
Camil began his career in the pharmaceutical industry in 2004 after joining the Merck Frosst research site in Montreal (Canada) in Respiratory & Inflammation franchise where he led a major therapeutic program focused on developing inhaled kinase inhibitors as a treatment for severe asthma.  Camil then joined Vertex Pharmaceuticals (Canada) where he progressed to the role of senior Director and head of Biology, overseeing research efforts aimed at discovering novel medicines for serious diseases including IBD and APOL1-FSGS.  
Camil obtained his Ph.D. in 2001 in Microbiology and Immunology at the McGill University located in Montreal (Canada), studying B-cell development and immunoglobulin repertoire diversification. He then pursued CIHR-funded postdoctoral studies at the University of California in San Diego (UCSD) studying the role of bHLH transcription factors in regulating B cell development and function. In 2016, Camil completed the miniMBA program at the McGill University Desautels Faculty of Management. 
Seminars:
Zilucoplan, a Self-Administered Subcutaneous Macrocyclic Peptide Inhibitor of Complement Component 5 (C5) 9:30 am
Download the Full Event Guide here to find out more Read more
day: Day One