Francesca Granata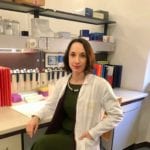 Company: Fondazione IRCCS Ca'Granda Ospedale Maggiore Policlinico di Milano
Job title: Research Biologist
Bio:
I graduated in "Molecular Biology of the Cell" from the University of Milan. 
I have been working since 2009 on Porphyria diseases and Heme biosynthesis field at the Policlinico Hospital of Milan. During my experience as a researcher, I published several peer-reviewed articles about these topics.  
Since 2015 I started to have interest in the complement system implication in erythropoietic protoporphyria, focusing on phototoxic reaction, the predominant symptom in this rare metabolic disorder. 
In 2019 I took part as a scientific committee for the organization of the one most important conference on porphyria, in particular, I organized the patient day managing over 30 association of patient and expert. Moreover, I took part as a moderator in conferences regarding the rare disease. 
I have always been interested in scientific dissemination; this is the reason why I have become a scientific consultant for the International Porphyria Patient Network (IPPN), an association created to protect patients' rights throughout Europe. 
Seminars:
Complement System Assessment in Erythropoietic Protoporphyria Patients 10:00 am
Download the Full Event Guide here to find out more Read more
day: Day One