Karoline Meagher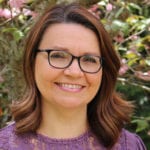 Company: Regeneron
Job title: Senior Staff Scientist
Bio:
Karoline A. Meagher (née Hosiawa) is an experienced Immunologist who for over 20 years worked on understanding immune regulation in animal models of disease and building improved mouse models to study human antibody effector function. 
She received her Ph.D. in Microbiology and Immunology from the University of Western Ontario (London, ON, Canada), where she investigated the role of IL-12 and CD80/CD86 costimulatory molecules in cardiac xenotransplantation rejection in the laboratory of Dr. David J. Kelvin. She continued her study of immune regulation as a Postdoctoral Fellow at the University of California San Francisco (San Francisco, CA, USA) in the laboratory of Dr. Mehrdad Matloubian. She focused on dissecting the mechanism of neutrophil localization to sites of infection during early lymphocytic choriomeningitis virus (LCMV) infection in mice. She demonstrated a novel mechanism of natural killer cells dependent neutrophil responses during anti-viral innate immunity. 
She joined Regeneron Pharmaceuticals (Tarrytown, NY, USA) in 2009 as a Postdoctoral Fellow in a Genomic Technology Development Group. She currently holds the position of Senior Staff Scientist and has been focused on the development and evaluation of Fc receptor (FcR)– and complement system-humanized mouse models for the study of human FcR and complement effector function in vivo. She is also working on target discovery for biotherapeutic development. 
Seminars:
Panel Discussion on Translating Animal Models 2:30 pm
Download the Full Event Guide here to find out more Read more
day: Day One

A Road Less Travelled: Finding a Path to a Human-Like Complement System in Animals 12:40 pm
Download the Full Event Guide here to find out more Read more
day: Day One